Fencing Soho w1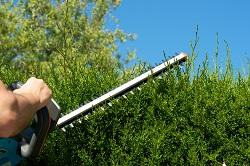 Fencing Services
At Gardeners Soho, we offer a wide range of fencing services to match all your needs. Whether you need to fence in your garden or something more ambitious like erecting a security fence around your property, we can do it all. Our professional staff are here to help you every step of the way from initial consultation to completion. Here's what we can do for you:
Types of Fences
We offer a wide range of fences to suit any purpose, from simple decorative wooden fences to more elaborate wrought iron, chain link and vinyl fences. We use only the best materials, ensuring that your fence is durable and attractive and stands up to the elements. We have the expertise to advise you on the best type of fence for your needs and our experienced installers will make sure that it is securely fixed in place.
Repairs and Maintenance
Your fence may require occasional repairs and maintenance over time. Whether it's dealing with storm damage or replacing a broken post, our team can handle it for you quickly and efficiently so your fence stays secure. We also provide regular maintenance such as power washing, painting and staining to keep your fence looking its best.
Commercial Fencing Solutions
Are you looking for an effective way to secure your business premises? We also specialize in installing commercial fencing solutions such as security fences, gates and automated access control systems. Our experienced team will work with you to design a customized solution that fits your budget and meets all requirements.
For all your fencing needs in Soho, W1, trust the professionals at Gardeners Soho. We have been providing high-quality services to customers throughout the area for many years and our commitment to customer satisfaction is second to none. Call us today on
or fill out our online contact form for a free quote!